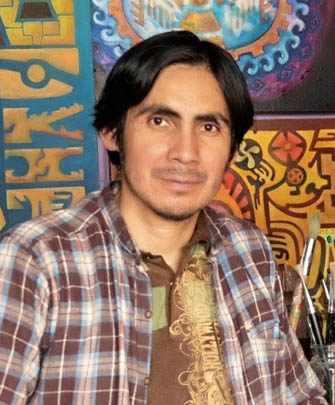 I was born in Quito (Ecuador); my academic studies were done through various courses in drawing, painting and the Faculty of Arts at Central University of Ecuador and AIU. My work is influenced by the hieroglyphs of cultures such as Egyptian, Sumerian, but mainly from the pre-Columbian cultures of America, where I made some artistic appreciation of archaeological sites and museums in Latin America and my country, without copying these symbols, I create a work of mine, using pictographs, hieroglyphs and graphics with a contemporary glance.

I have made more than 200 exhibitions between individual, collective and participated in several biennials. My work has been exhibited in various galleries and museums in various countries of the world such as: House of Ecuadorian Culture, Camilo Egas Museum, Guayaquil Municipal Museum, Luis Noboa Naranjo Museum, PUCE Cultural Center, Ministry of Culture and Heritage of Ecuador, Center Cultural Itchimbia, Peru Ibero-American Art Hall, Lima Metropolitan Museum, Nesle Gallery, Alpha in France, D 'Art San Vicente de Raspeig Gallery, Spain, Delle Prigioni Gallery, Italy, etc. Standing out in the Intercontinental Biennial of Indigenous Art, first place in Drawing, the Kala Maharshi Baburao Painter Global Artist of the year 2021 Award in India and Order of Merit of Commander Belmonte-OCB, Rio de Janeiro, BRAZIL.

During these years I have also developed illustrations, glass painting, stained glass and Art Nouveau furniture design. My works are in the Casal Catalá Quito, the Benetton Imago Mundi Foundation Museum in Treviso, Italy, the Peruvian Embassy, the Nuevo Horizonte Ecuador Foundation, the Andante Spain Foundation Museum, the Azabache Peru Foundation, The Nala Project Germany and in private collections in the United States, Canada, Switzerland, Spain, Italy, France, Peru, Ecuador, etc.

Coordinator of the "Amerindia" Festival, Intercontinental Encounter of Visual Artists, "Al Sur del Sur" Art Festival, member of the Academy of Arts and Letters of Gastronomic Poetry of Brazil, Ambassador of Andante in South America, Ambassador of The Nala Project in Ecuador and Ambassador of World Peace in Lumbini (2021-2025).

My works have been published in various magazines and books in which I can mention some: "EL CAFÉ LATINO" Magazine and "GAZETTE DES ARTS" in France, "KING HOUSE ART MAGAZINE" in London, UNITED KINGDOM, Light of Time Contemporary Artist from Ecuador in ITALY, etc.