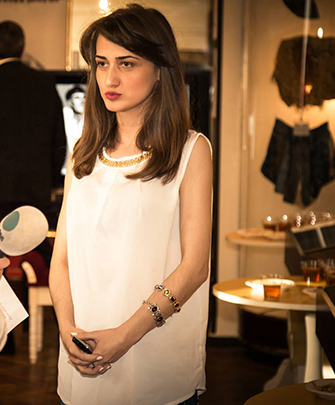 Country: Gerogia
City: Tbilisi
Georgian painter Mariam Baidoshvili was born in 1989 in Signaghi.She lives and works in Tbilisi. She is a graduate of Tbilisi State Art Academy a master of fine Art. Her paintings have been exhibited in various exhibitions. She has held 5 personal exhibitions. Besides she is the prise winner of Pierre Haesler Art Foundation Competition.
Exhibitions:
2012 Art Academy Exhibition Hall
2013 Patriarch Exhibition Hall
2013 Kutaisi Parliament Exhibition Hall, Exhibition of paintings dedicated to "Dede Gorgud" .And the presentation of "Dede Gorgud " book illustrated with the paintings.
2013 Exhibition Hall of The Public Library
2013 Batumi International Festival
2013 Pierre Haesler Competition Winner
2013 Youth Palace - Presentation of the book "Dede Gorgud"
2014 "Sfumato" Gallery
2014 United Colours of Beneton - " Imago Mundi"
2015 Art Caffe "Tiflis Brunch"
2015 V. Chabukiani Museum
2016 Tumanishvili Theatre Exhibition Hall
2016 Pro Credit Bank Exhibition Hall
2017 Georgian Culture days in Spain
2017 Illustration of Calendar for Year 2018
Also her works are on gallerytoday.org
Saatchiart.com
Modernartvirtualspace.be
Artavita.com
Facebook . by art Mariam
Her paintings are saved in private collections in the U.S.A . Bulgaria. Kazakhistan. Hangary. Britain. Georgia.
Solo exhibition Ofening day 22 may 19:00 K. aphkhadzis #4. Leselidze street. Tiflis brunch.
Exhinition until 4 june