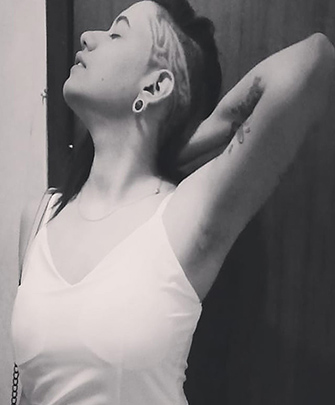 Renata Alves, 23 years old. Artistic / Pictorial Technique and Fluid Acrylic. In 2017, I won the drawing contest for the carnival block Loucura Suburbana for the blouse and in 2020 I won again.
Starting my artistic work, in which I was invited to participate alongside two plastic artists in a project to make a giant doll of 1,50 meters in height, I was invited to make the shirt, which was the choice of the same shirt design as Carnaval block.
Since then, I have been studying and dedicating myself more and more to the techniques of fine arts.
Renata Alves, born on February 17, 1997.
I discovered art through Occupational Therapy. And inside I ended up expanding, becoming more and more a complete artist! I became a photographer, visual artist, composer and poet.
I started with fine arts in general as occupational therapy.
Because I have problems with depression and anxiety. However, in the midst of art, I found myself and got up. I like to say that my canvases are focused on what I feel and are totally sentimental.
Because sometimes I spend a lot of time looking at a blank canvas and, suddenly, I feel some feeling, and then I start painting. There is a phrase from my creation that goes like this.
"I breathe art, I live art and I am also art! Because, only it is able to heal and transform people. After all, the Art of Healing!" - Renata Alves