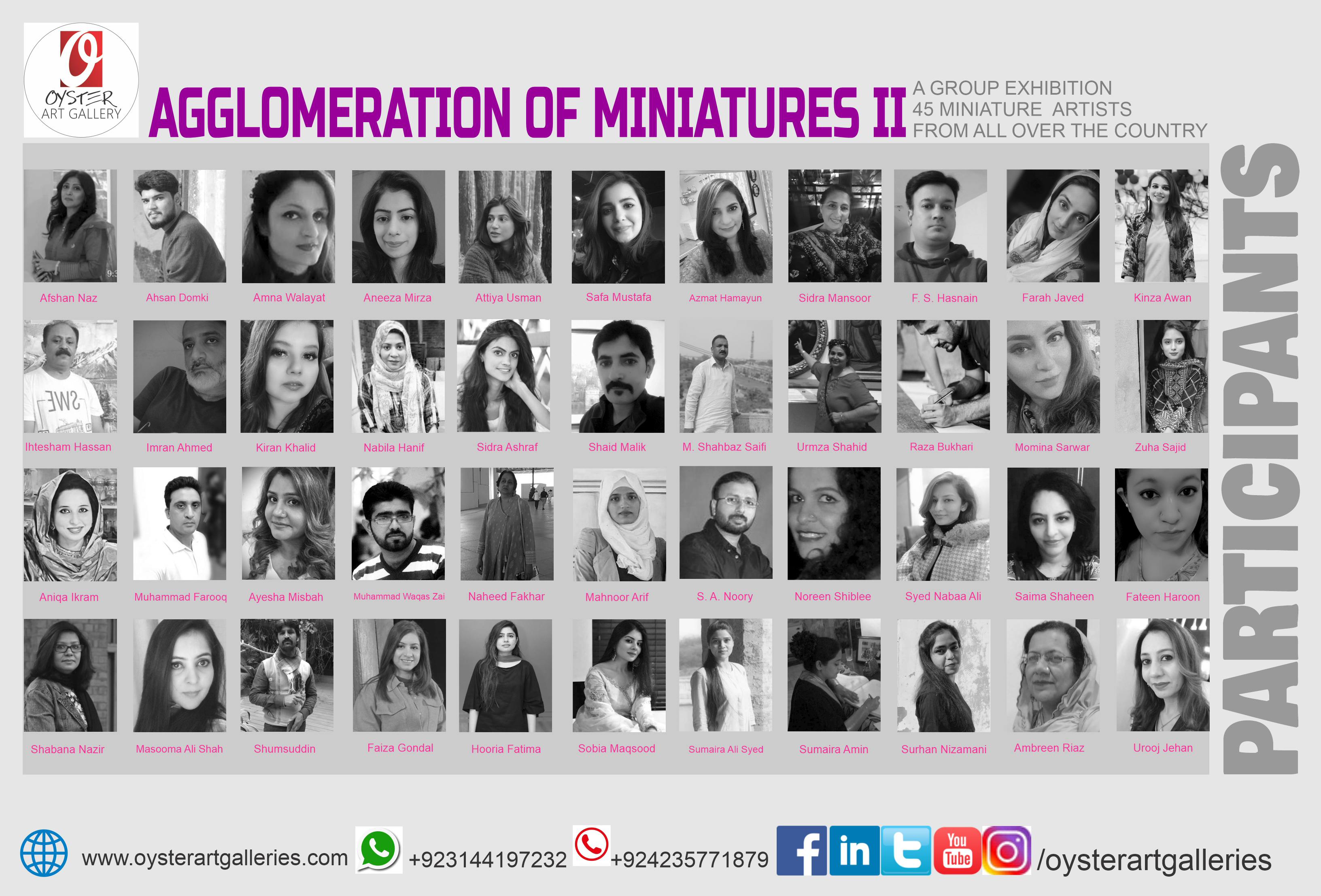 Agglomeration of Miniatures II
Oyster Art Gallery
Cordially invites you to
A group show of 45 Miniature Artists
"AGGLOMERATION MINIATURES II"
Afshan Naz | Ahsan Domki | Amna Walayat | Aneeza Mirza | Attiya Usman | Ambreen Riaz | Azmat Humayun | Aniqa Ikram | F. S. Hasnain Bukhari | Farah Javed | Ayesha Misbah | Ihtesham Hassan | Imran Ahmed | Fateen Haroon | Faiza Gondal | Hooria Fatima | Kinza Awan | Masooma Ali Shah | M. Shahbaz Saifi | Muhammad Waqas Zai | Kiran Khalid | Momina Sarwar | Mahnoor Arif | Muhammad Farooq | Muhammad Shabbir Naqsh | Nabila Hanif | Naheed Fakhar | Safa Mustafa | Noreen Shiblee | S. A. Noory | Shahid Malik | Shamsuddin | Saima Shaheen | Sidra Ashraf | Shabana Nazir | Sidra Mansoor | Syed Muhammad Raza Ali Bukhari | Syed Nabaa Ali | Sobia Maqsood | Sumaira Ali Syed | Sumaira Amin | Surhan Nizamani | Urooj Jehan | Urmza Shahid | Zuha Sajid
on Friday 30th December 2022
Pro. Bashir Ahmad
(Ex-Head of Miniature Department of NCA)
Has kindly consented to inaugurate the exhibition
At 4:00 p.m.
Guest of Honors
Fakir Saif Uddin
(Director of Fakir Khana Museum)
You are cordially invited to a group exhibition (Agglomeration of Miniatures II) of 45 Miniature Artists from all over the country. The exhibition is also available online. Kindly visited the given links to view the online exhibition.
https://www.oysterartgalleries.com/exhibition/sub-agglomeration-of-miniatures-ii-2043
https://www.facebook.com/oysterartgalleries/photos/pcb.5588613864569065/5588609321236186/
https://www.youtube.com/watch?v=VngVlrAKiOU&t=22s
Starting from Friday 30 December 2022, at Oyster Art Gallery 84-B-1, M. M. Alam Road, Off Ghalib Market, Gulberg III, Lahore. TEL: 00924235771879, WhatsApp: 03144197232 Web: www.oyster art galleries.com, Email: admin@oysterartgalleries.com.